Middle school resources to help pre-teens manage time, energy, and attention
Here's an overview of our growing bundle of curriculum. We offer 6 unit plans (55 total lessons) on the topics below.
Explore Resources for Middle School
Foundations of Flow
Foundations of Flow: 5 lessons with PPT and student journals
Looking for a more engaging way to help students focus their attention and complete assignments? Introduce them to Mihaly Csikszentmihályi's research on Flow Theory, and show them how to "get in the flow" when they're working so tasks feel more enjoyable and meaningful!
Learn More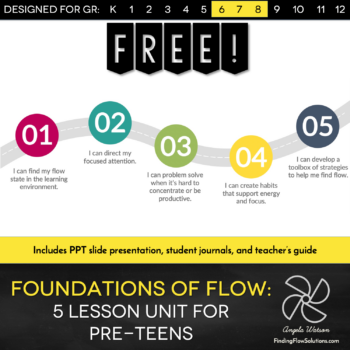 Subjects
Life Skills, Study Skills
Neuroplasticity and Growth Mindset
Neuroplasticity & Growth Mindset Unit: 10 lessons with PPT and student journals
Are your students reluctant to try new things, easily discouraged, and unconvinced of their own abilities to learn and grow? Teach them the neuroscience of learning!
Learn More
Subjects
Life Skills, Study Skills
Subjects
Productivity, Self-Directed Learning, Metacognition, Organization
MS 6 Unit Bundle
Growing Bundle: All 6 Units for Middle School
Purchase all 6 units for middle school now at a deeply discounted rate! Price includes units 1-2 (ready now), along with Unit 3: Initiative and perseverance (available in December 2023); Unit 4: Mindset and attitude (available in January 2024); Unit 5: Responsible work ethic (available in February 2024); and Unit 6: Respectful collaboration (available in March 2024).
Learn More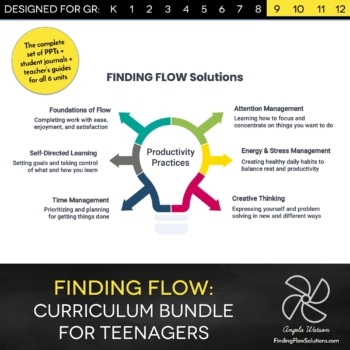 Subjects
Life Skills, Study Skills
Subjects
Productivity, Time Management, Focus and Attention, Energy Management, Creativity
Explore Resources for Other Grades